Legend comes!
Birju Maharaj Japan Tour
India's living legend, Kathak Maestro, Pt.Birju Maharaj will tour Japan in May, 2014,
with his foremost disciple, Saswati Sen, his son, Deepak Maharaj, and the rising star, Mahua Shankar.
The troop will perform in Tokyo on 11th May and Osaka, 17th May.
Tokyo: 16:00 Sunday, 11th May, 2014 at Theatre1010
Osaka: 16:30 Saturday, 17th May, 2014 at Creo Osaka East.
TOKYO
Sunday, 11th May, 2014 at Theatre1010
4pm start
Dancers
Pandit Birju Maharaj
Saswati Sen
Deepak Maharaj
Mahua Shankar
Masako Sato
Musician
Table – Utpal Ghoshal
Sitar – Chandrachur Bhattacharjee
---
Venue
Theatre1010
http://www.t1010.jp/html/access/
Kitasenju Station, directly connected from the west entrance No.4 exit.
Kitasenju Marui, 10F.
10F Bldg. I SENJU MILDIX, 3-92 Senju,
Adachi-ku, Tokyo, Japan, 120-0034
(TEL: +81-3-5244-1010)
---
Buy Ticket
http://birjumaharaj.peatix.com/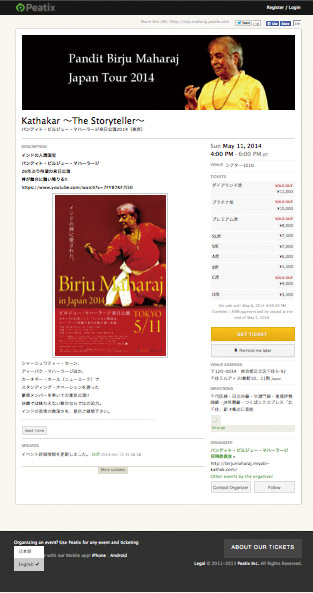 ---
Organised by The Committee for Pandit Birju Maharaj's Japan Tour
Rekooland Co.,Ltd.
Oasis Sound Design. Inc.
Cooperated by Miyabi Kathak Dance Academy
Under the auspices of The Indian Embassy in Japan
The Japan-India Association
The Japan Foundation
Discover India Club
NPO Nichi-In Koryu wo Moriageru-kai